Spalted maple window ledge counter top
A wonderful friend of mine asked me to make something special for her new home. This "live edge" window counter top captures the beauty and ruggedness of nature.
Kitchen Island
The client has a unique kitchen that needed custom work to accommodate the existing cabinets and washing machine. So we came up with this new cabinet that will maximize space and still fit into the existing cabinetry. We mixed up the woods a bit. Worked in a maple support center with cherry shelves and framed doors. She has an incredible butcher-block counter top that will be installed after this island is delivered to her home.
Hand crafted cherry supports
The client preferred to use as little metal as possible. I was only tohappy to oblige with some hand crafted shelf supports. I had to go get a new tool to do it...hehehe...love tools.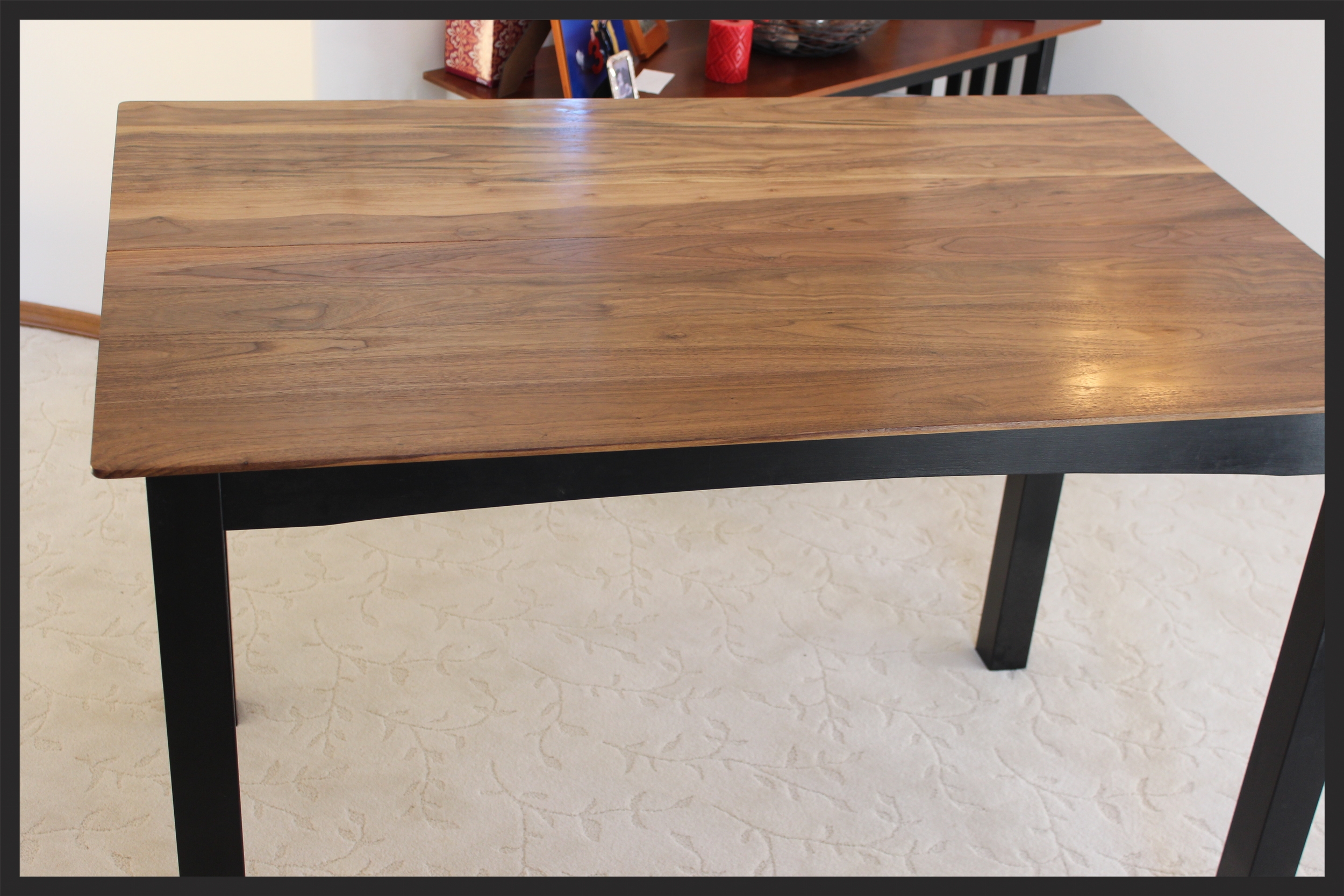 Hidden Leaf Table
Specialty Table with a hidden surprise. Renewed old table construction with a new walnut top.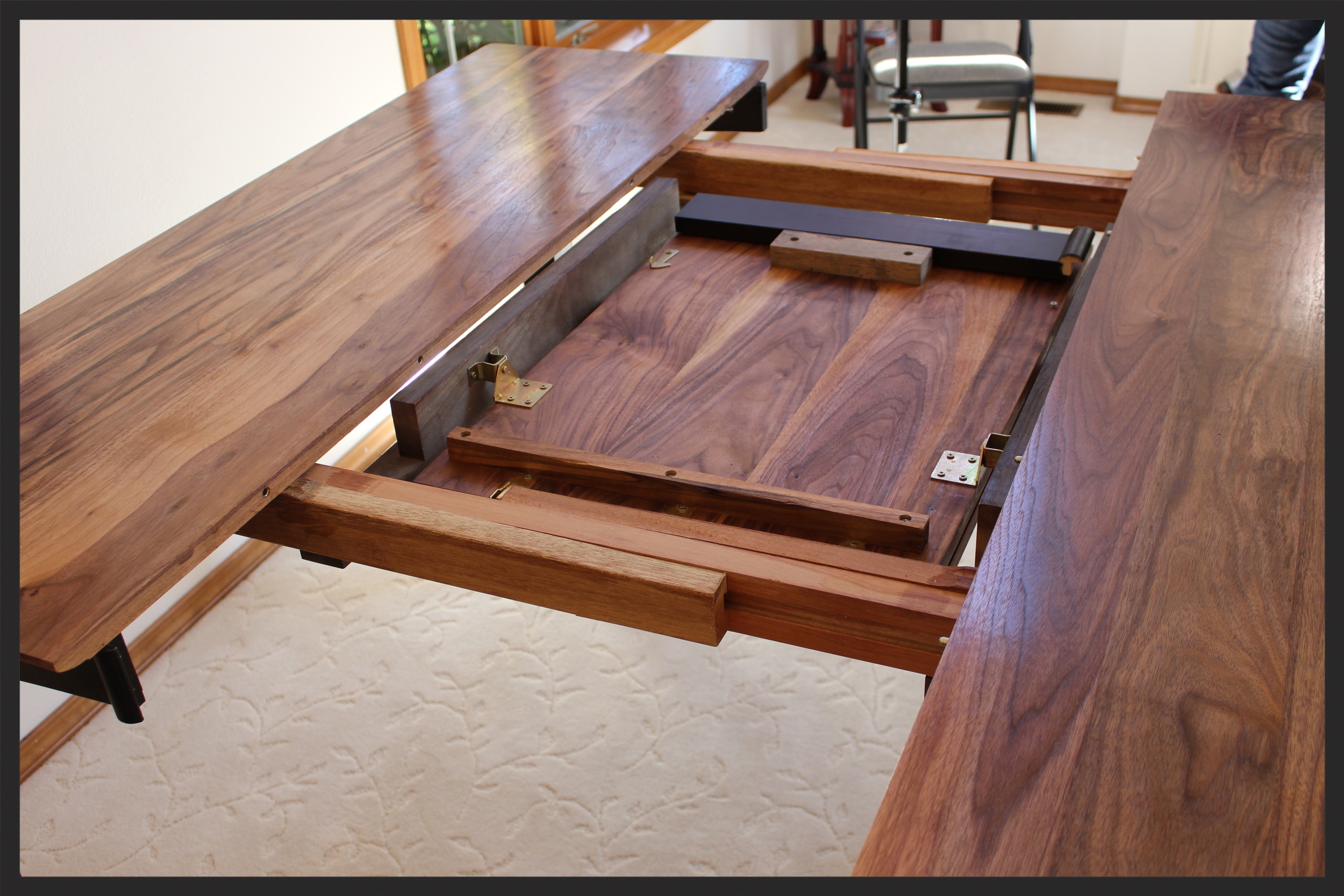 Here's the secret
With this surprise, you don't have to worry about where to store the 3rd leaf!
Simply fold out and lock in place
Three leaf setting for larger events!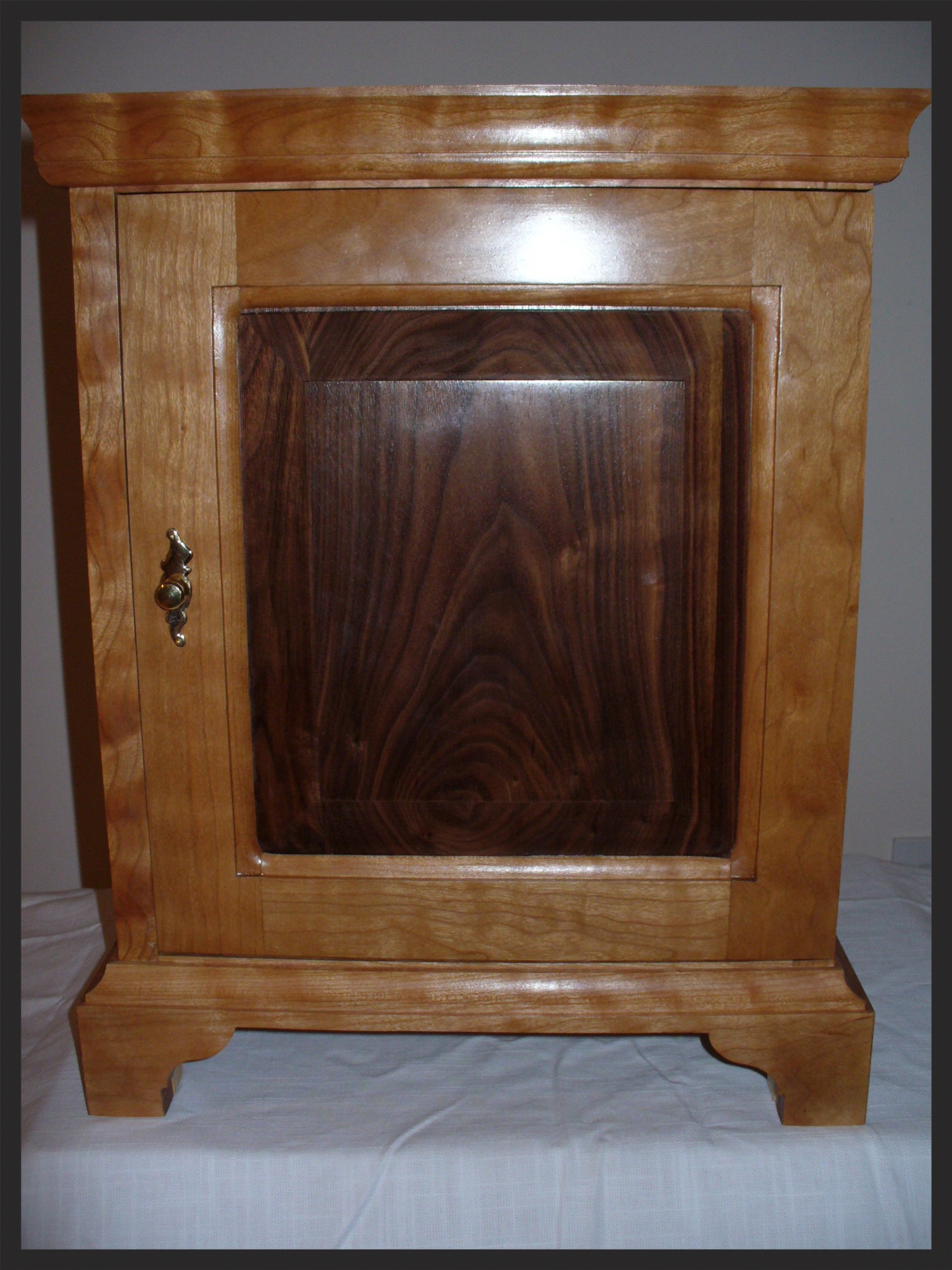 Pennsylvania Spice Box
An old world art piece. 100 years ago, families kept their loose cooking spices in the many small drawers. Now, these unique cabinets are used as jewelry boxes. Approximate size, 21" tall, 16" wide, made with Flame Cherry, Walnut raised panel door and Walnut drawers.
"Hope Chest" Linen Chest
Hope Chests are an old world tradition. They were made or purchased by the bride's father and then filled by the mother with all the things that the young couple would need in their new life together. It was the "hope" of the parents that the bride and groom would have a wonderful new start with the treasures stored within. Made with Birdseye Maple and Flame Cherry; 28" tall, 52" wide, 24" deep, with cedar lining and all hand cut dovetails. Can be made to fit your bedroom.
Repurposed Church Pew
A new client asked me to re-purpose an old church pew she had saved from the burn pile. The mission: take a 17 foot church pew and make it into a 3 foot mudroom bench and an 7 foot-wide eclectic window seat. The really cool part about this project is, as I disassembled the piece, I thought about the hands that made this, 30+ years ago. About all the people, during those decades, that came to church with their concerns, burdens, and joys to commune with their Creator. From this pew, they were married, had babies baptized, asked for loved ones to be made well, begged forgiveness for mistakes, and gave great thanks for a life well lived. Now, in 2016, I get to save this piece from the rubbish bin and remake all that history into something that will bring happiness in a new way.
Church Pew with hand carving
We got to have some fun with this project. The client wanted something special to showcase in her living room. Fall leaves are a motif in her home, so I worked the fall colors of brown, purple and red intertwined with a green vile. I used purpleheart, walnut, and African padauk for the leaves and a crushed malachite for the vine.
DVD Cabinet
Celtic Cross with Malachite Stone
Artisan Bookcase
Solid cherry frame and shelves, with maple panels. 5' tall, 3' wide, 14' deep. Custom made to fit special rooms.
Annual citizen award plaque and gift
A local area church has a special award they give to one of their members each year for support and service to the community. I loved designing and crafting this plaque and award presentation. The cross statue is given to the award recipient and, each year the new recipient's name will be added to the plaque. The statue is made of walnut as is the plaque. The plaque has a smaller version of the statue, also carved from walnut and haloed by a maple silhouette.
Personalized Art Studio Sign
Jean, a new customer of mine, asked me to make something special for a family member. She wanted a personal sign to capture the artistic side of the Sharon, and mark her unique creative space. Together, we came up with a basic design, but Jean let me have creative freedom for the final touches. This is also my first chance to work with stone inlay. The whimsical lettering is a simple carving, painted to highlight the words from the iridescent birdseye maple painter's palette.The dragonfly was carved similar to the lettering, but then inlaid with malachite stone.
Single drawer pencil leg desk
Mahogany stained eucalyptus wood desk. 40 inches wide, 30 inches deep top provides ample workspace for writing, computer monitor and keyboard. Can be tailored to dimensions that fit your office.
Custom Frames for unusual art pieces
Oak frame shaped to fit non-standard dimensions. The center piece is a hand crafted art tile provided by the customer. The frame was shaped specifically to fit the center piece.
Antique Alder Chair Repair
Initial leg fabrication
glue up with hidden dowel pins
Color and shellac finish matched. Ready for delivery
In-cabinet cutting boards
Many northwest homes have cutting boards built into the kitchen cabinetry. The originals were made of plywood, and are good for a while, but after couple years of use, the top laminate wears through and can't be repaired or cleaned. So, solution: solid maple slatted wood with a walnut breadboard end-cap. Maybe after two decades it might need to be sanded an polished....maybe...